Salvage Car Auctions Who Can You Trust?
Salvage car auctions can be your best bet if you are planning to buy a vehicle and you cannot afford to get a new one. Used cars are increasingly popular nowadays especially in times of financial distress. Automobiles are no longer a luxury item, but are already among the basic needs in day to day living.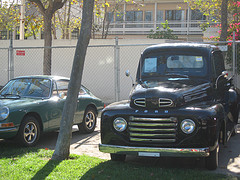 If you are limited financially and you are saving up for the grandiose purchase of a brand new car it could take years before you can finally get one. Fortunately, you don't have to wait that long. You can have a car of your own in the next couple of days without hurting your pocket.
At salvage car auctions, you can probably get an automobile in excellent running condition for as cheap as $500 or less. However, you must be extra vigilant during the trading process in order to avoid being ripped off.
Cases of bad purchases are common, especially among buyers who don't bother to observe certain procedures that are necessary for a good transaction. To avoid being ripped off, take a moment to check out these few tips.
Tips on Buying Public Auction Cars at Salvage Houses
Know the Procedure
Perhaps one of the first few things that you need to do is to get to know the trading process to ensure a stress-free transaction. The process is relatively distinct compared to buying a brand new car. In this case, you will have to go through the bidding process where there is no guarantee that you will get the vehicle of your choice.
Take note that the competition is normally intense in many salvage car auctions, and you might be competing with seasoned traders with many years of experience in buying fleets of units at salvage houses.
Inspect the Vehicle 
This step is extremely important so please make sure not to skip it. It is imperative that you take a closer look at the automobile not just to assess its running condition, but also to ensure that the minimum bid price is worth the value of the item. Aside from that, this can also help you set the ceiling bid price.
Don't just inspect the car, also check the papers. Go over the important documents like the registration papers, the insurance, and the maintenance records in order to have an overview on how the car was maintained by its previous owner.
Stick to Your Bid Range
Often, traders get carried away by the bidding process that they ended up in a bid war against another bidder. This must be avoided at all cost since it could potentially end up in you paying more than the actual and fair market value of the car. To avoid falling into this trap, stick to your bid range and let go of the car once the price goes beyond the ceiling of your bid range.
At a seized car auction, many things can happen. You can either make or break a deal. But if you know what to do and how to get an excellent bargain out of your purchase at the salvage car auctions, it can be a rewarding experience.
Photo Credit: Simon Davison via Compfight cc
Posted under Salvage Truck Auction
This post was written by admin on July 29, 2013